Here we are, playing our March. (Feel free to clap along, you know you want to.)
A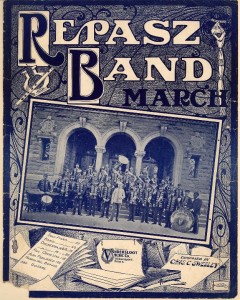 t the conclusion of every concert, be it a summertime serenade in the sun or a winter holiday concert full of Christmas cheer, the Band autographs the concert and seals its performance with a spirited rendition of the "Repasz Band March." This popular signature march has been a part of the Band's life since its original band edition was copyrighted in 1901 by Charles C. Sweeley and Harry J. Lincoln, a composer known for his many marches.
The cover of the 1901 piano copy of the march pictures a smartly uniformed, forty-member band with a cornet-playing bandmaster (possibly W. Herdic Wood, the conductor from 1902 to 1910)."4 The Repasz Band has gratefully received and performed this product of local creativity and talent as a testimony to the Band's abiding connection to the historical Williamsport community.
According to Gene Bardo, a musician and former member who wrote about the Band in 1983 for The Instrumentalist magazine, "The 'Repasz Band March' is the second most played march in the world, exceeded in number of performances only by Sousa's "Stars and Stripes Forever."  During the past year," Bardo says, "I have heard it performed by a polka band, used as a disco tune on late-night radio, and played three or four times through our local supermarket's background music system." 1
Our march on a Wurlitzer (this is just Happy Music, folks.)

The march, like the Band it was named for, is an institution familiar to many of us, yet with historical value not many of us realize. A current Band member also identified the march's melody as Col. Henry Potter sang a ditty to it in one episode of "M*A*S*H."  Although out of print, copies of the Paul Yoder arrangement of the march are available from the Band for a nominal fee to cover the cost of duplicating.  Information about the "Repasz Band March" and many other marches of local origin is available in the Heritage Encyclopedia of Band Music edited by Paul E. Bierley.  According to this source, "in all of band history, there is no more confusing situation than that surrounding the life and works of the American composer, Harry J. Lincoln, and the relationships he had with other musicians from the Williamsport, Pennsylvania area." 2
Playing our march at Eagles Mere, July 4, 2015 (my daughter took the video, KI 🙂

"Born in Shamokin, Lincoln was organist and choirmaster of the First Church of Christ, and pianist and manager of the Williamsport Symphony.  He composed most of his band music under his own name, but he occasionally used pseudonyms and even sold his works to others who then affixed their names to Lincoln's compositions.  According to John Hunsinger, evidence suggests that Repasz Band trombonist Charles Sweeley bought the "Repasz Band March" from Lincoln, and it is a fact that Sweeley is listed as composer in the original 1901 edition, where Lincoln receives credit in later versions.  It is a matter of some controversy that may never be resolved, but the popular march may be enjoyed on its own merits regardless of its origins." 3  March Music Notes states "According to Jeffrey W. Dugan, a prominent Williamsport music educator and local historian, Harry Lincoln not only renewed the expired copyright under his own name and publishing company in 1929, but he reportedly wrote the publicity stories (including one titled "Romantic Story of the Repasz Band March") which listed himself as composer.  However, the original 1901 piano copy, the advertising from the early 1900s, and recordings by such bands as Emerson Military, Prince's, Prior's, and Vessella's all list Sweeley as the composer. . . .4
Recent documentation discovered by John Hunsinger in his research, including a sworn affidavit and copyright application, indicates more strongly that Lincoln may have actually been the composer.  Even though the Repasz Band plays from an edition listing Harry J. Lincoln as composer (arr. Paul Yoder), concert programs and announcements list both Sweeley and Lincoln, acknowledging the unresolved question of the actual composer, and crediting both gentlemen.
Arrangement of our march for player piano

1 Gene Bardo, "The Legacy of the Repasz Band," The Instrumentalist, January 1983.
2 Bierly, Paul E. (ed.) Heritage Encyclopedia of Band Music
3 Diane C. Janda et al, Program Notes, Lycoming College Concert Band; March 31, 2000
4 Norman E. Smith, March Music Notes, Lake Charles, LA: Program Note Press, 1986, pp. 402-403.